There are many light pole factories in china,most of them use tewei light pole production line.here is a summary of how to make steel light pole in china!
Material cutting: In the whole material cutting process, we suggest customer choose

trapezoidal shearing machine

or plasma cutting machine.

Bending: It adopts a CNC bending machine with a length of 15 meters, and it is formed by one-time molding. This equipment has the characteristics of high control precision, beautiful lamp pole shape, low out-of-round rate and smooth appearance.
Welding: CNC automatic closing machine is used for welding. This equipment integrates the functions of closing and welding,it is tewei pole welding machine; the weld is formed at one time, with uniform surface and straightness. not more than 2%.
Pole Straightening: In the whole process of production tools, the company performs straightening twice;
the first time is carried out after the longitudinal welding.
The second straightening is carried out after galvanizing and before spraying. It is used to eliminate the bending of the lamp post due to thermal stress caused by hot-dip galvanizing.
Bending: According to the design requirements of the drawings,and then make a mold according to the determined data.
and finally bend it by an automatic pipe bending machine, which fully guarantees that every Root formation is consistent.
Galvanizing: adopt advanced galvanizing technology, technology and domestic advanced galvanizing equipment, strictly implement the national standard GB/T13912-92.
the galvanized layer conforms to the requirements of GB2694.
and the technical parameters such as pickling and galvanizing temperature are strictly enforced. Strictly check, the thickness of the zinc layer is greater than 65um.
Open the electric door: CNC plasma cutting machine is used for cutting, with high cutting precision and small cutting gap.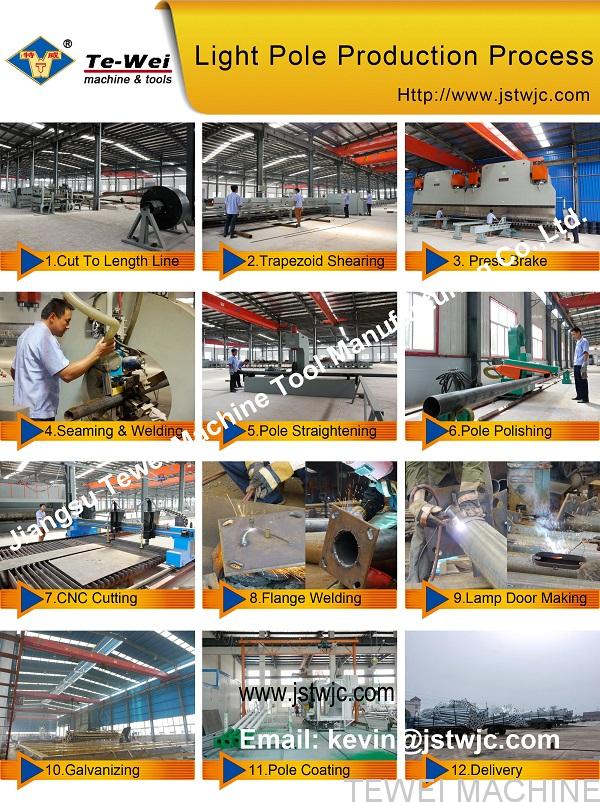 this is the 7 common steps to make steel light pole in china.welcome enquiry us!
https://www.teweimachine.com/wp-content/uploads/2020/04/logo-construction-300x138-1.png
0
0
teweiwang
https://www.teweimachine.com/wp-content/uploads/2020/04/logo-construction-300x138-1.png
teweiwang
2022-04-30 07:21:22
2022-04-30 07:21:24
How to make steel light pole in china?